...............ok actually it's in a Chevy truck but the point is I am going to Albuquerque to see my family!!! My dad, my BFF (well one, I have a couple :p )and I will be driving out to see my daughter graduate on Tuesday. While there I will get to spend some much needed time with the hubby - it's been hard being apart so much since the beginning of the year but I am so blessed to have him as he is understanding and actually urges me to help care for my family knowing I will always be his! Aw, I get all mushy talking bout him, he truly is the most amazing guy ever and I honestly do feel blessed to have him to complete my life...........there I go again!!!
Anywho, our trip will find us seeing family and celebrating Cait's graduation (our son is another story, 5 weeks before graduation he dropped out because of problems with one class he didn't think he could fix ***sigh***) and the start of a new chapter in our lives. Once graduation is over we'll be coming back to Texas - unfortunately leaving my husband behind til he can get a transfer - and staying with my dad til everything settles down. This is good for us and for him as we are all still adjusting to losing my Mom. It's been 7 weeks today and I still wake up at night reliving the last moments when she passed. Luckily, as I said in my previous post, I've started to come to terms with the facts and am starting to let myself cry over it.
Enough, enough, enough - today will keep me busy finalizing the last few things that I need to do - like making my list for tomorrow otherwise I know something will get overlooked!!!
1. Take truck for oil change.
2. Pick up RX's for Dad.
3. Drop Dad's dog at the doggie hotel - he doesn't travel well unlike my girls who love to travel.
4. Get dog food for the other dog that our neighbor will take care of.
5. Pack my suitcase w/the exception of toiletries.
6. Fill truck with gas.
7. Put luggage in truck.
There, think that is it!!!
As promised in the last couple posts, here is some of the jewelry I've been making and selling. I have a large stock of materials but haven't done anything in the last 2 weeks but will get back to it soon. If you see something you like or would like to order something custom shoot me an email at craf_t_scrapper@yahoo.com and I'll get ya taken care of!!! I sell them for $25 per set plus shipping if you aren't local (will be in the DFW area after next week).
Not a fav, very simple:
This one was made and worn for my Mom's funeral: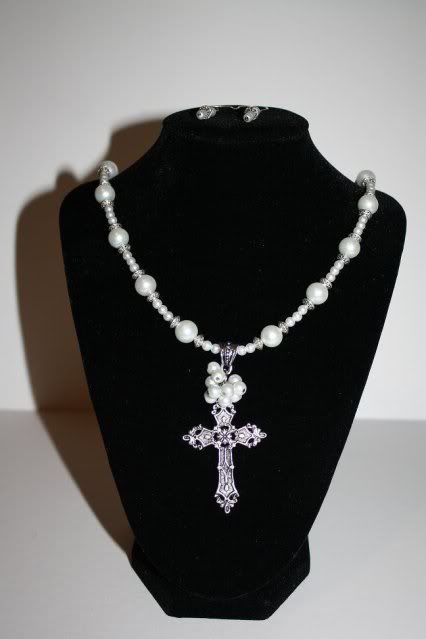 Another simple one:
These two were custom orders: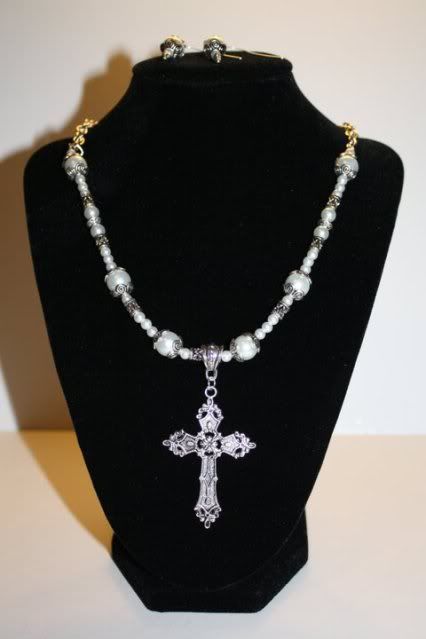 Thanks for stopping by and I'll be back in a week or so with pictures from graduation, stories of family and hopefully some more crafty stuff as I truly feel my creative juices coming back because my daily activities are sparking ideas again!!!