It's been a while since I've played with my Maggies and wow, it felt good to color these girls again!!! This card was for two challenges, Heather's "add some stamping to your project" challenge over at
SD4U
and the "love somethings" challenge at
Stamp Something!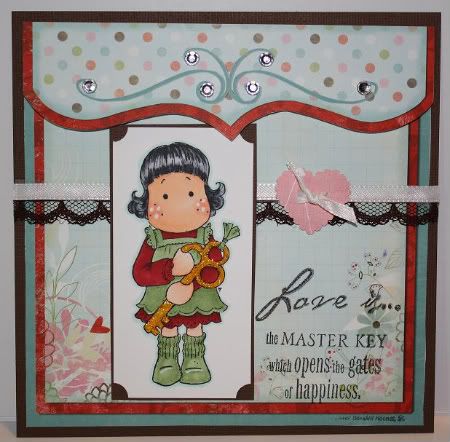 Roses are red, violets are blue, Where is the place to be for Valentines,
Scrapbooking Deals 4 U
!!!
Are you looking for a fabulous place to play and crop this Valentine's weekend? Hop on over to Scrapbooking Deals 4 U and join in on the fun that will be had and def the prizes to be won! The crop starts on Friday, February 12th and goes through Sunday, February 14th with 10 super fun challenges and several games - all with a chance to win prizes! The grand prize for the crop will be a 3 month guest designer stint chosen by the site owner Martha. There will be 2nd and 3rd prizes as well and each challenge will have a random RAK winner too! If you stop by make sure you sign up and post your welcome and mention you wound up at SD4U via my blog - I get a little chance at a little something too if you do!!! Either way, SD4U is a great place to play and the kits, well, they are just fantabulous!!! Can't wait to see you there!!!
Not feeling so great today so I'll not yap too much! Thanks for stoppin' by and happy scrappin'!!!