..............which is exactly what he did! This is Dylan on his 16th birthday hooking up the new amp we got him. I have had this pic printed for a while wondering what to do with it but always coming up empty. When I got my January kit from SD4U and saw the "Rock Out" I knew exactly what I was going to do! I ended up getting 4 layouts completed, my pinwheel flower and sour cream carton all from the 1 kit and I have enough scraps I could make another card not to mention the alphas and 3 more word art pieces that I can use with something else! I am really digging their kits - it is so nice to have a kit club going again. Anywho, it's time for you to............
Rock Out!!! LOL
Tonite I started working on my design work for The Cuttlebug Spot and got this card all finished to realize I wasn't even working on the right challenge........ugh!! I so hate when I do that!! At least I was able to do the card sketch challenge at SD4U with this one!!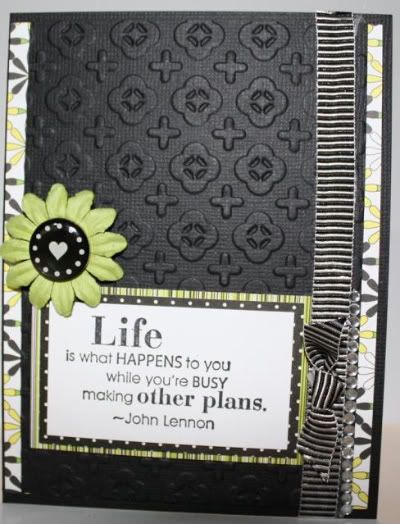 Off to try again for my DT work and I have a layout in mind I'd love to get done tonite so we'll see!! Thanks for stoppin' by and happy scrappin'!!!