Are you thinking I'm wacky? Well, yeah some days but seriously, it is Wacky Wednesday over at
Robyn's Fetish
today and I must say, my wacky image was just too cute for "ewe" not to love...........bahahahahahahahaha, or should that be baaaaabaaaaabaaaaa I crack me up! Sorry, I digress - I really swear I am ADD or ADHD or something like that because my focal points bounce around all over the place no matter what I am doing!!!
Anywho - back to
WW at Robyn's Fetish
!!! This week we are using Sally da Sheep as our image and guess what, she is FREE - yep, you read that right! Sally da Sheep is totally free to you for one week only so pop over and grab her while she is still available and, if you create with her we would totally love to see!!!
Here's my WW Sally da Sheep card which was based off the sketch at
Friday Sketchers (I just love their sketches):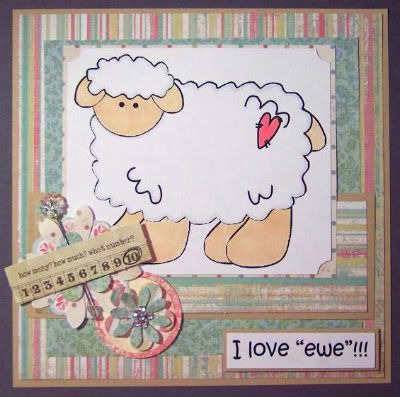 and Copics used:
For those that know me, I hoard paper. I have more paper than any sane scrapper should probably have - I know there are those out there that know what I am talking about, just look around you! Anywho, I used My Minds Eye Coastal Laundry Line papers that I got at Archiver's when we lived in Austin - see the connection, that has been a year and a half and I just opened the darn pack!! LOL The image of course is from
Robyn's Fetish
and the sentiment I typed in Word using Kristen ITC Font that I got from one of the free font sites. Copics used to color and the stick pin is from my stash - I truly don't know where I got it! I made the flowers using a couple round embellishments from the paper pack and then punched a couple different flowers and layered them. The "how many? how much? what number?" also came from the paper pack and I thought it worked so well with the "I love ewe".
OK, now don't forget to link up your creations to our
WW post at Robyn's Fetish
and look out for Saturday when I'll have another card using one of her cah-yute Christmas images - I can't tell you which one but just think that in some parts of the world it is a little "frosty" out there!!! Boy, I crack me up!!!
Thanks for stoppin' by, happy scrappin' and MERRY CHRISTMAS!!!
PS I have stepped down from the Charisma Cardz design team as I was not able to keep up with the challenges due to my hectic schedule and I also took a short hiatus at The Cuttlebug Spot but the New Year should bring about some amazing challenges and work from all the sistah's over there so hang in there, the year is almost over with new adventures for us all!!!