Wow, 2 posts so close together! LOL I am delirious at this point and sick as a dog but I managed to get a layout done today!! It is a very simple layout and a scraplift challenge over at Scrapbook Deals 4 U but it was good to get the old mojo flowing again! The picture was taken on Christmas day by Cait using my new camera and since pics of Rob and I together with him NOT making faces are rare I figured I should take advantage of this! Again, this is a very simple layout but I like how the focus remains on the picture of us. I did journal around the edges which is a little mushy but basically tells him how as we begin each new year together I can not imagine loving him more but throughout the year my loves grows stronger and stronger - he is my Christmas Joy!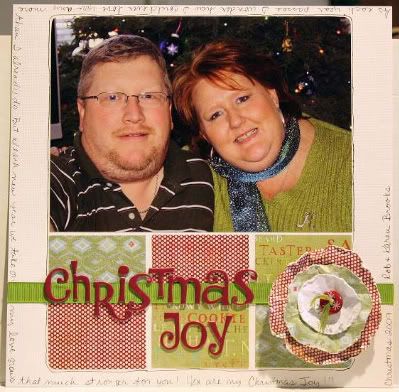 Thanks for stoppin' by - I think this is it for me today as my body is yearning for the recliner to watch my Dallas Cowboys play tonite and eat a hearty pork chop dinner which Rob is cooking right now!!
Happy Scrappin' all!!