Christmas that is! Wow, time is flying so fast that I can not even dream about keeping up! I am working just one job now but it is management in retail while I wait til after the first of the year for the government contract with Lockheed Martin to be finalized so wow, it is crazy out there! I've been putting in 10 to 15 hour days with very few days off so no time for family much less crafting. I am not looking forward to the holidays being the blur they are becoming but at least when they are over it will slow down for me!
Tonite has proved to be one of my bad nights. My fibromyalgia and MPS is acting up so no sleep for me - even though I have to work early in the morning. So I decided to put that time to use and make a card for a sketch challenge over at Scrap Fit. It isn't much of a card or anything near my norm but it was all I had in me at midnight being exhausted but not able to sleep.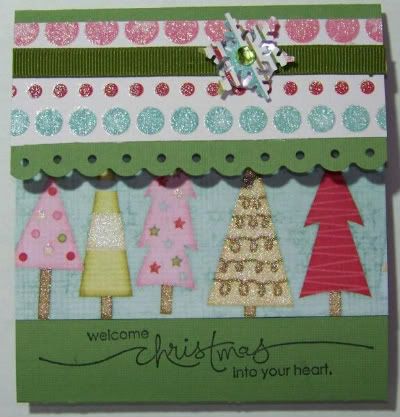 Thanks for stoppin' by and happy scrappin' - I am on the search for Neenah paper here in Albuquerque so I can get to stampin' again, it is horrible being out without any scrap stores around that carry it. I am hoping one of the local printers carries it otherwise I will resort to buying it online and hoping it makes it here (our mailman is horrible and half the time I don't get things that have been sent to me with them being returned to the senders and other times they just don't show).