Gosh where on earth do I start!! Let's see, this is gonna be a long post to catch up from December 3, 2010 to current and boy is there lots to talk about!!!
My new doctor (found her in September) is amazing. She has been working diligently on getting me straightened around. The new meds have helped with my Fibromyalgia which is a great thing. My flare ups are limited to once or twice a week instead of daily. With this the rest of my ailments that typically accompany FM have seemed to calm down as well.
Work is going good, I finally feel like I have command of my position and can handle anything.
My brother happened through Albuquerque on the 5th so I was thrilled to get to see him. We didn't have a lot of time to spend together but I enjoyed what time we did have. Here is a quick pic of him :)
December 6 I fell in a hole that the kids in the apartment complex had dug in the yard and was covered in leaves so I forgot about it. It was not a graceful fall by any means and we swore my ankle was broken, here is a quick pic of the baseball size knot that was on it but luckily was only sprained really bad: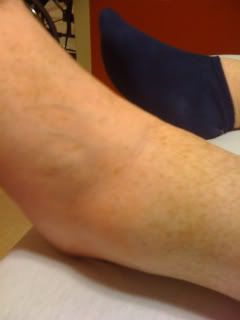 The following weekend we went Christmas tree hunting as a family - me, Rob, Cait, Jeff, Dylan and Kelsey. Yep, the whole gang! Was weird having our kids with their significant others venturing out with us doing a family thing but it was great. I have to admit though, New Mexico Christmas trees leave a lot to be desired after being spoiled by Oregon trees!!! Here are some pics from our outing which included cooking lunch over a fire we built up in the woods and having smores!!!
The kids on our way out of Albuquerque to hunt our family Christmas tree: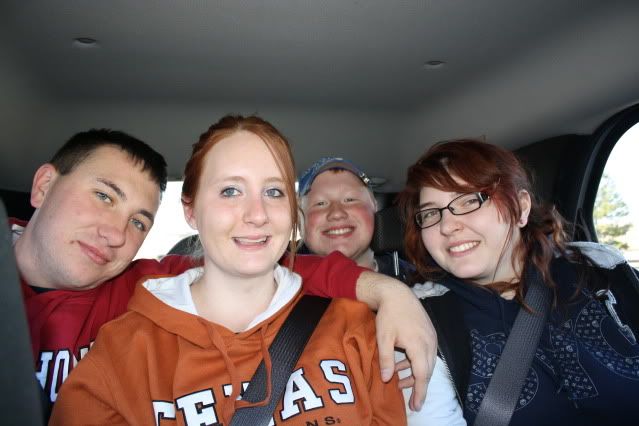 Rob cutting my tree down :)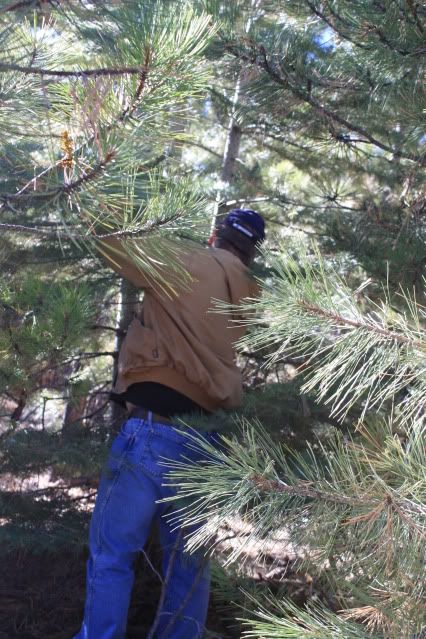 A random visitor
Pics of everyone messing around and our fire pit where we fixed lunch :)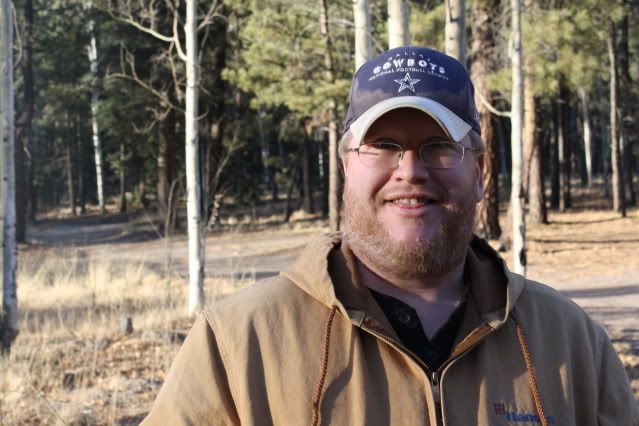 Our tree when we got home:
Our new tree, Rob decided he was not satisfied with our Charlie Brown Christmas tree so he went to Lowe's or Home Depot and bought an Oregon tree and brought it home:
The kids (Cait, Dyl and Kelsey) decided they were gonna make Christmas cookies: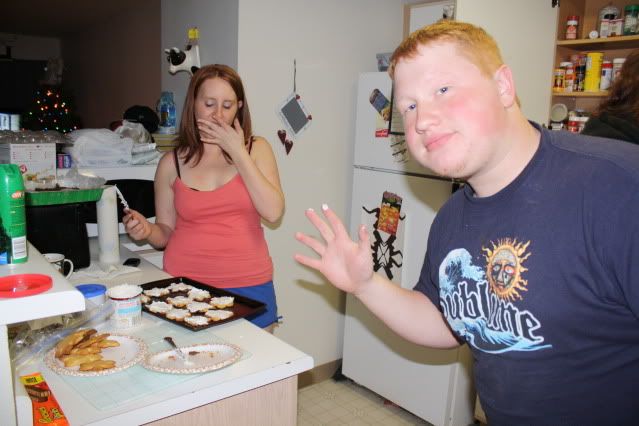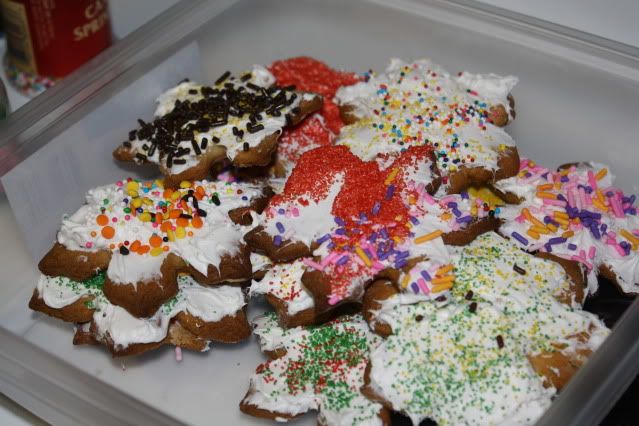 We got a little snow but not on Christmas day of course. Still to this day I can honestly say I don't remember having a white Christmas - yeah, I know my family in Texas will have a comment to let me know THEY have had a white Christmas the last two years since we moved away but meh!! LOL This pic was taken about 11 p.m. when the snow was really coming down: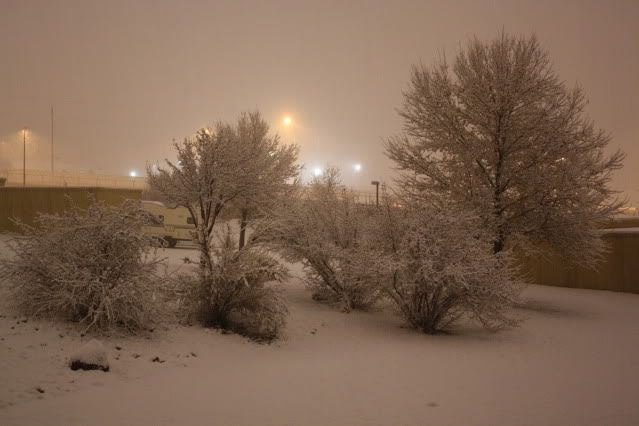 Here are a couple pics of Cait and Jeff all gussied up - they went to California the week before Christmas as Jeff's buddy was getting married. Since I couldn't be there to see them all dressed up I made them give me a trial run LOL: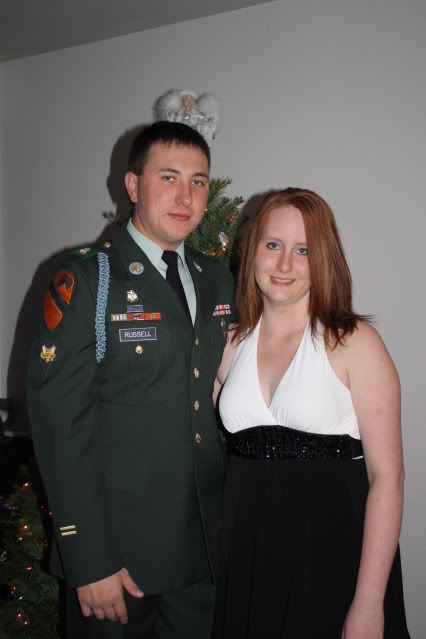 Jeff decided he was going to wear the Green Hornet glasses from when Chuck and Deb were here: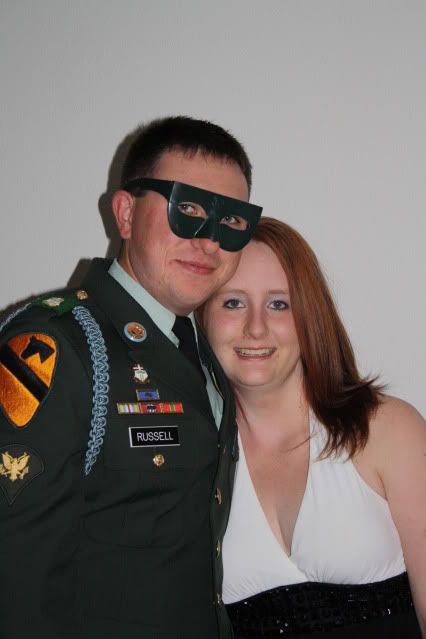 Christmas day was very quiet around our house. We opened a few presents and spent the day together as a family focusing more on "us" time than gifts which was very nice for a change!!! I feel Christmas has been commercialized way too much and while I love to give my kids something to make them happy we do that pretty much all year round so instead of focusing on gifts we focused on family and the reason for the season (yeah I know it sounds corny but hey, we enjoyed the day very much):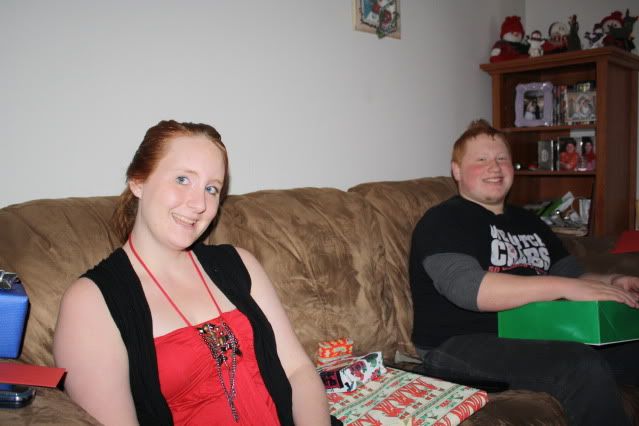 New Year's rolled around and we spent it with friends. Was a really nice evening and we met some new people that we are happy to call friends now! The kids went with us and boy did we have a spread of food!! Some awesome island food was provided along with sushi and I made my mother in laws awesome sweet and sour meatballs!!! Check out the food tables!!!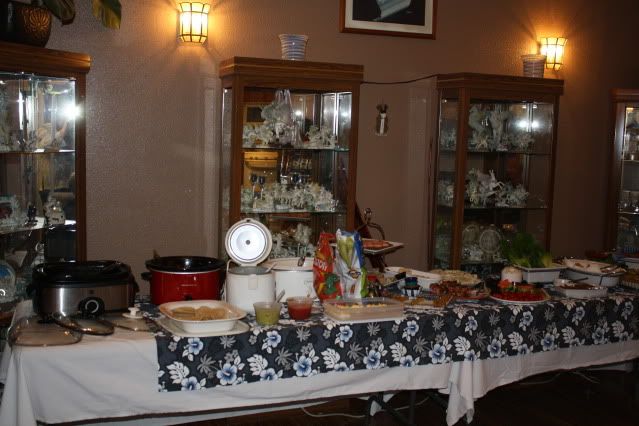 Our hosts and dear friends- Peter and Vannie. Rob and I both work with Peter and just love him and his wife. They are awesome people and we've had fun hanging out with them a few times now and even have Super Bowl Sunday invites: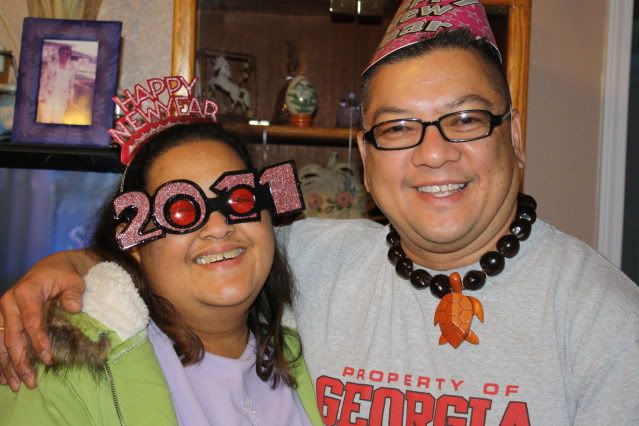 My goof hubby:
New friends: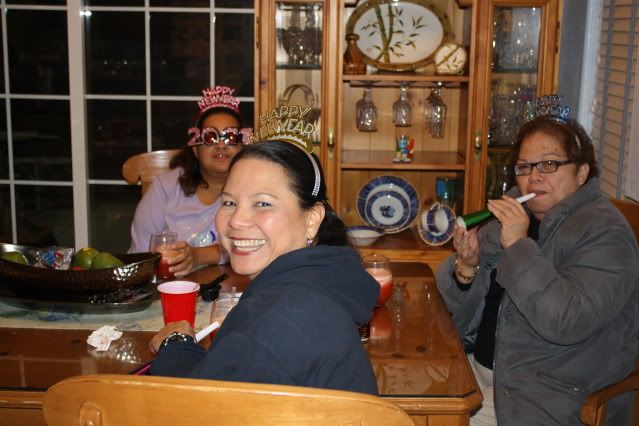 The kids: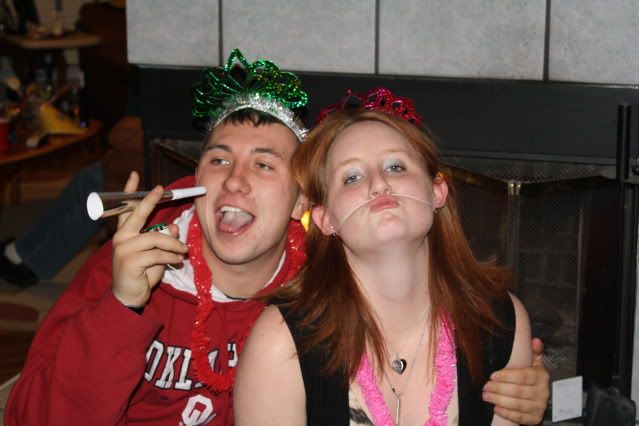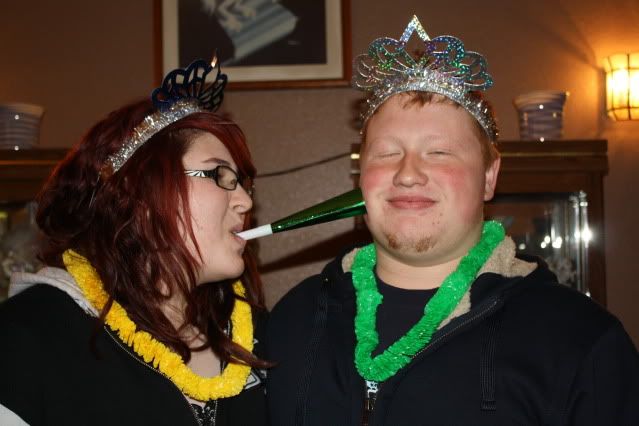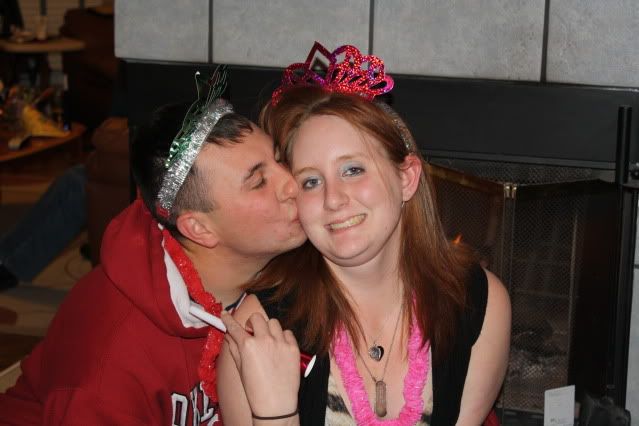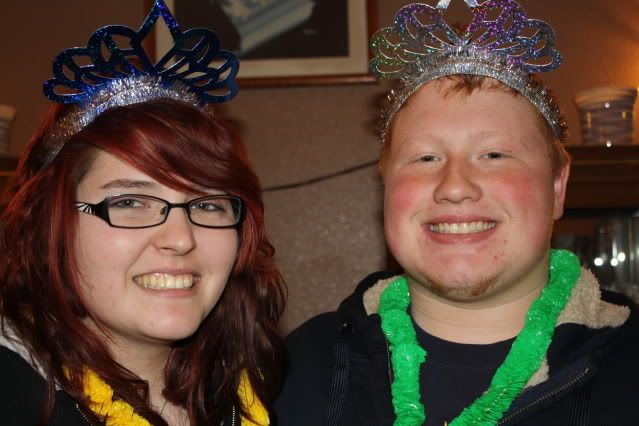 January 1, 2011 rolled around and we found a new reason to celebrate:
Jeff asked Cait to marry him on 1/1/11!!! He is being deployed to Iraq in March and wanted to have the engagement done before he left. They are planning the wedding for late summer 2012 when he gets back from his 12 to 14 month tour of duty.
We have a new addition to the family. Her name is Harley but we lovingly call her the moose. She is a 6 month old lab mix and a real sweetie. Daisy has surprisingly taken right to her and plays good and hard which for Daisy is unusual because she is not a social puppy - she loves people but does not like any other dogs.
Harley and Daisy curled up on their daddy's lap:
Wasn't sure HOW this could be comfortable in any way but she slept like this for quite a while one night with Cait:
And then tonite while I was doing some crafting she decided to nap with her food bowl:
So, I told you this would be a long post!!! I have another post to make but want to keep it separate from this one since there is so much here to see because I don't want the next post to get lost in all this!!!
Thanks for stopping by and hopefully I have gotten out of my crafting slump so you'll be seeing more stuff from me again!!
Happy Scrappin' and Happy New Year!!!