Post #2 in one day after no posts in 6 weeks, maybe it will snow!! LOL
So we are hot and heavy into wedding planning. Yep, we know it is still over a year away but when you plan to do most everything yourself to help cut costs it is good to get a headstart.
I have been wanting to try this for a while now but just haven't done it. Cait's wedding gave me the perfect excuse to give it a whirl and for the first one I am really satisfied with it. Yep, I learned a couple things that I should do different next time but overall it turned out great! So enough with the yapping what is it huh??? LOL Well, I saw a while back someone made candles using stamped images and I was intrigued. I started researching it and found it was actually a pretty easy process, especially if you stamp your image and not try to print it out. I took a plain white candle from Michael's for the base. I stamped this adorable image that Jeff bought me because they wanted wedding invitations (coming up next) made with them onto tissue paper with my Memento ink. I flipped the image over and carefully colored it in - trick to getting a richer color is to NOT color the image when it is laying on something absorbent - another sheet of paper is where my mistake was made - because the tissue paper is so thin it goes straight through. So I tried to retouch the color by holding the image up and using the very tip of my Copic's to reapply color. Once you get your image colored trim around it but not all the way to the lines as you need a little excess to make it set right. Place the image onto the candle with the colored side to the candle and make sure it is lined up where you want it. Take your embossing tool or even a hair dryer that gets pretty warm and head the candle around and over the image so it "melts" into the candle. The tissue paper doesn't really melt into the candle but the warm wax just absorbs into the tissue paper creating the visual that the image was stamped onto the candle. Here's my first ever candle doing this, like I said, not perfect but workable!!!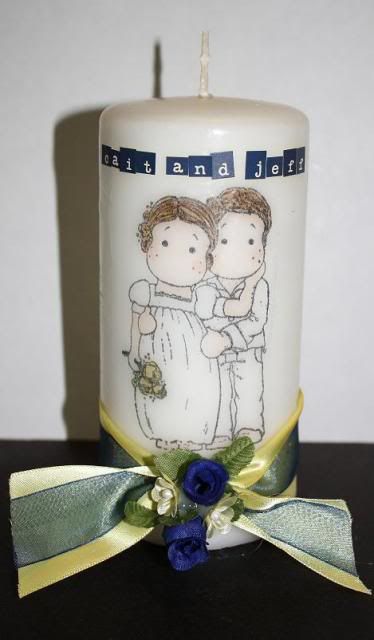 Close up of the image:
And then we have the decorations on the bottom. Boy did I not even see that gigantic hole until after I uploaded the pics to my facebook and decided to heck with it, I wasn't gonna go fix it and repost, I'd just change it for the next one: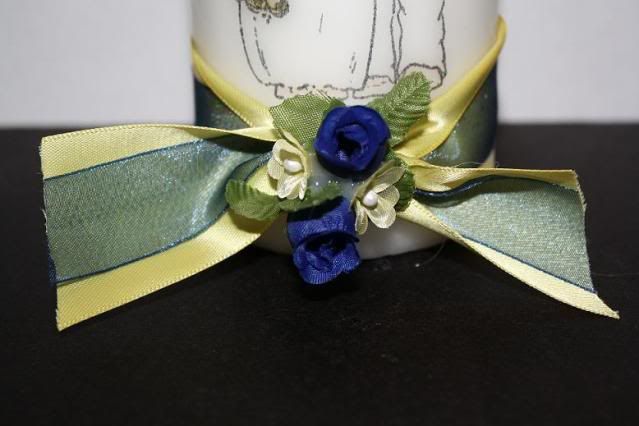 Now for the exciting part!!! The image is a Magnolia image that Jeff bought me (I think I already mentioned it) so they could have their invitations made with it. I stamped it and colored with my Copic's and then scanned it and reprinted it to test and see how the color would show up so I didn't have to hand color EVERY invitation - I am quite content with the first try at this. Today Cait and I hit the ONLY scrapbook store that is left in Albuquerque other than Michael's, JoAnne's or Hobby Lobby and found this Basic Grey paper which goes good with their colors - yellow and blue. We came home and I went to work making my first prototype and we are really thrilled with it. I do want to give a couple other designs a go including adding stitching to it but for tonite this is what we have (the date/time/location is not set yet just wanted something to work with):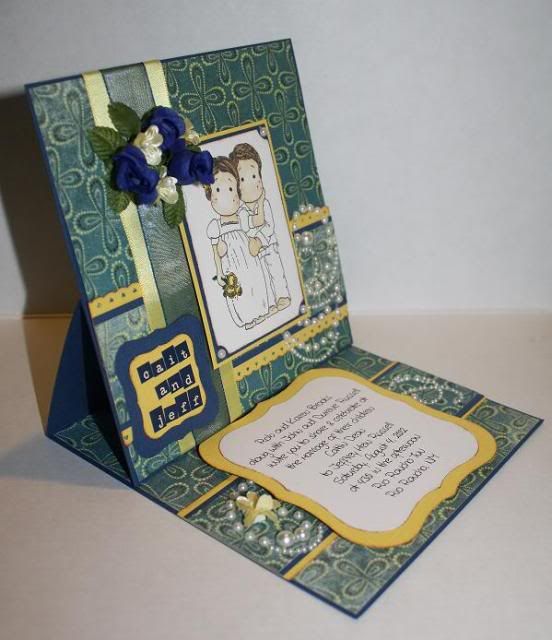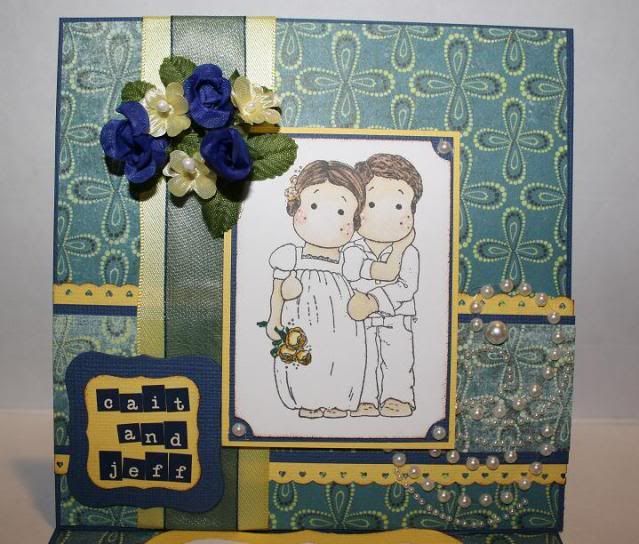 Of course the final invitations will not be so bulky because they will be mailed. I will substitute flourishes cut on my Cricut for the pearl flourishes and paper flowers for the flower bunch so it isn't so bulky to mail.
While I was thinking of what to do I went to the
Just Magnolia
site to see what the challenge this week happened to be and lucky me, its a sketch by Donalda!!! I love sketches and it was the perfect sketch for the invitation front.
Secret Crafter
issued a challenge for It's a Couple Thing which was perfect for this card as well!!! And.....since
Stamp Something's
challenge is Cute Somethings I thought this fit the bill there too!!! So, this trial invitation is for the challenges at these blogs!!!
OK, off to bed as Cait and I have the New Mexico Wedding Expo to attend tomorrow and I had a sleepless night last night so I need to get my beauty rest!!! Speaking of beauty (BAHAHAHAHAHAHAHA) I took a pic this morning of my self because I've been down and out with the flu for the last 9 days and today was the first day that I felt human so here's an updated pic with long, unruly hair!!! If anyone knows of a GOOD hair dresser here in ABQ please hook me up!!!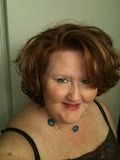 Thanks for stopping by and happy scrappin'!!!!