Have ya missed me? Wow, so much has gone on since my last post and I don't know where to start. Get ready for a novel of a post - you've been warned..........LOL!!!
I arrived home on Sunday, 4/19 to no internet due to the storms we had after my vacation to Tennessee - which is what this post is primarily about so get ready!!!!
On 4/12 I left Texas heading to Nashville, TN to spend a few days with my darling friends Cristal and Aymee before heading off to the mountains with 9 other ladies for a scrap happy weekend retreat:
This pic was driving from Ft Worth towards Dallas about 6'sh in the morning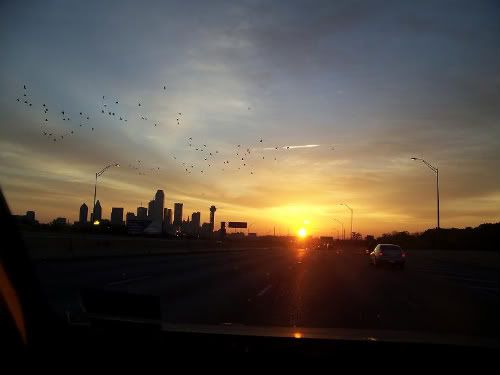 It was a LONG but nice drive from Texas to Tennessee. Knowing that Cristal was headed to Alabama to pick up Aymee that day and wouldn't be home til later in the evening I made plans to stop in Memphis to visit Archiver's - man I miss that store!!! When we lived in Austin there was one about 15 mins from me and I went about once a week (yeah I'm pathetic) so I hadn't been since August of last year!!! It was a great to walk in and feel the rush of yummy new product!!! I have to admit though, it was great to revisit the store and especially see the Hot Spot stuff (all items in that area are $1.98 and they had the chip chatter letters that sell for $6 to $8 elsewhere) but there is an LSS by my Mom's house (The Crafty Scrapper) that is, dare I say it, that is just as good or better than A's because Carolyn keeps it totally stocked with new yummy goodies!!! Anywho, I did pick up a few things that I hadn't seen and I def hit the hot spot and grabbed some of the chip chatter letters and some of the gems they had over there. Nothing spectacular though just enjoyed browsing and relaxing after driving a bit.
After I left Memphis I headed on to Nashville then into Murfreesboro to meet up with Cristal, her husband Andrew and her 3 boys as well as Aymee and it was amazing to finally meet these beautiful ladies!!! That first night we didn't stay up too late as we were all whipped from the driving but we did get to chit chat and visit a bit and it was so much fun. On Sunday we made a little video wishing everyone a Happy Easter and took this pic:
Now tell me, have you seen 3 more gorgeous chics? OK, don't answer that but I think we are pretty saucy!!!
Sunday Cristal fixed a delicious ham dinner for our Easter meal. We got to watch the boys hide and hunt eggs and play with their Easter goodies. It was great being around little ones again!!! After dinner Andrew, Cristal's husband, was such a doll and drove us to Nashville to take a few pics. I wish I had just a week to spend in Nashville alone and to visit all the stores, The Grand Ol' Opry and all that jazz. Here is a pic of downtown Nashville:
I snapped these two pics of murals while we were driving around as well: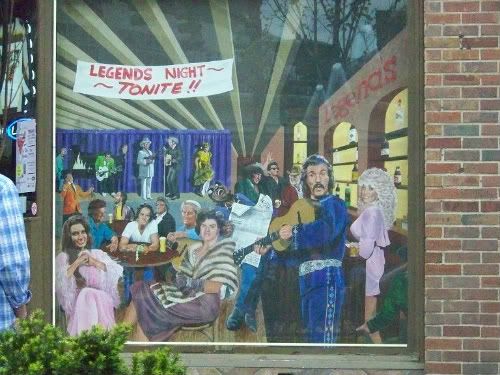 We spent Monday and Tuesday visiting and running errands and working on things for the getaway. It was a blast as we did visit the LSS that is in Cristal's neighborhood and OMG it was a fabulous scrappy store - I bought some great My Little Shoebox papers that I hadn't been able to find anywhere in person (I prefer to touch my papers before I buy....LOL). We also got the aprons made - Aymee and I ironed them to make it quicker for Cristal to get them sewn together and 10 aprons later we were done! It was so much fun and they were really so easy that I came home and made 2 of them - 1 for Cait because she loved my apron and the other one for me as a back up to use in the kitchen.
My apron from Cristal: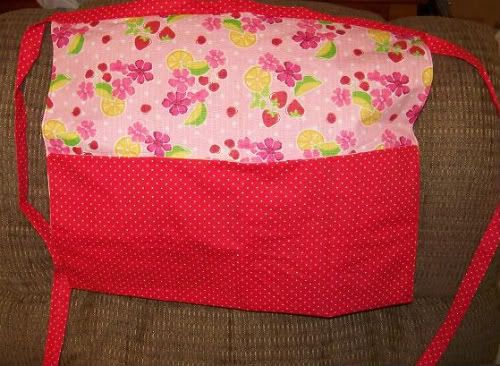 The aprons I made (don't look close because you can see the crooked seams and such...LOL):
Don't be too harsh on my aprons, it has been over 10 years since I've tried sewing anything other than a card or layout.........LOL. I don't think I did too bad but there is definitely room for improvement. I thank Cristal tons for letting me help with making the ones she gave as gifts because it gave me a renewed feeling to sew!!! I am planning a tote next so keep your eyes open!!! Oh, and the craziest part??? Remember that little Pixie sewing machine by Singer that my Mom traded me for last year so she could start quilting again? Well, I used the Pixie to make the aprons!!! I def don't see the Pixie making clothing or doing heavy duty sewing but simple stuff that doesn't have a lot of layers like the aprons is easily doable on that little machine so if you have still been unsure of investing in it - I still recommend it!!!
Late Tuesday another friend, Cee, arrived at Cristals from Missouri. I've been waiting just as long to meet this woman and I wasn't disappointed. She is such a beautiful person and another great friend!!!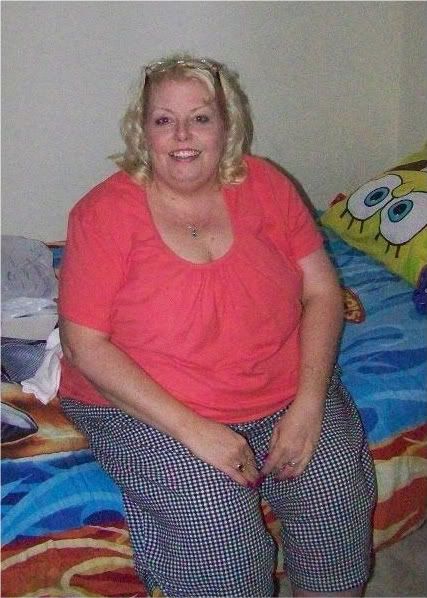 We didn't do much on Tuesday night because there were some seriously tired girls but Wednesday morning we started out day off by picking up Denise from Florida:
I am just so glad I finally got to meet Denise in person. I have to admit that over the last year or so that I've "known" her online I didn't really know her. There were preconceived ideals that were so NOT true due to some riff raff that I thought she was associated with closely (total scrap whore drama that doesn't need to be delved into here) but I am so happy to find out that I honeslty DIDN'T have a clue!! Denise is a hoot! She is a beautiful woman and lord she cracks me up! She is always on the move too, man I tried keeping up with that woman and even ventured on a morning walk with her and told her if she didn't watch out she might have to go get the car and take me back to the cabin..........ROFL.........yep, I'm out of shape something serious but in my defense there were a couple "hills" we had to walk up and I don't think that woman even changed her breathing pattern from it as I gasped to make it back up the drive way (it was a steep drive way mind you) to get to the cabin!
Wednesday for lunch Cee was such a doll and treated us to a fabulous BBQ dinner in Nashville at a place Cristal totally recommended and it was so worth it!!!!
Denise had the waitress take a picture of us as a group:
In this pic from the left side back and then around the table to the right is: Cristal, Gage (Cristals darling son), Denise, Aymee, Cee and me
And a pic of Cee and I:
On Wednesday evening Melissa aka Ziggy and Karen D aka Kray arrived at Cristals so we could all head out on Thursday to the mountains to meet the rest of the girls. This is Zigs and Kray - I had to edit a pic to get one of the two of them, I didn't get but one of Zigs before we headed to the mountains and none of Kray and the one of Zigs was her laying on the bed so I figured she didn't want me sharing that one :)
Thursday morning we all got up and headed towards Pigeon Forge, TN - the great Smokey Mountains!!! Here is a pic of us girls at a rest stop on the way up into the mountains: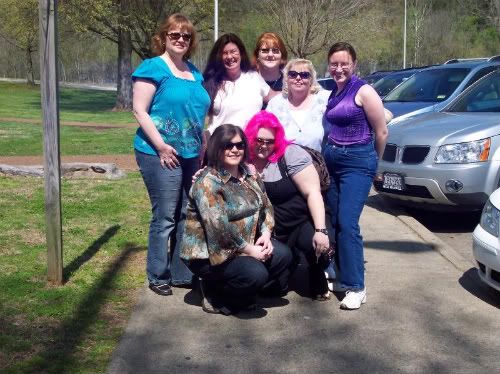 In this pic, starting from the back we have Karen D (Kray), Denise, Karen B (me), Cee, Melissa (Ziggy), and in the front Aymee and Cristal.
This was our cabin: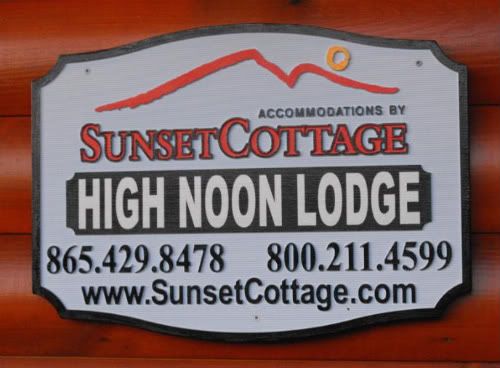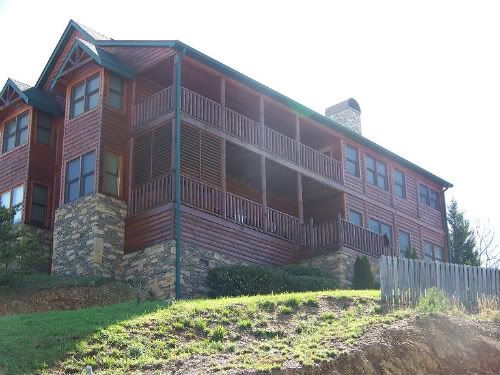 And a couple views from the cabin: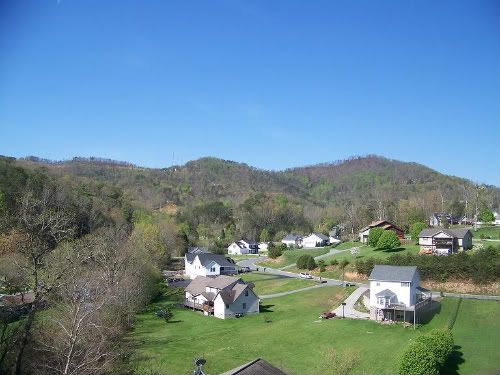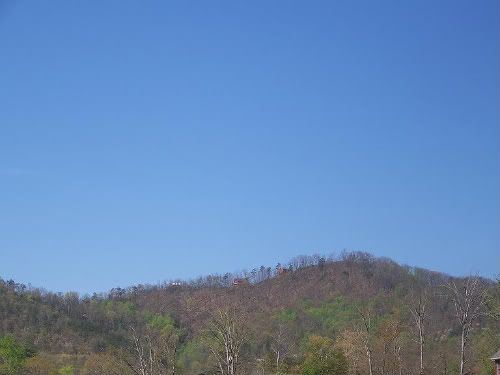 On Thursday as we arrived at the cabin we got to meet Janelle and Ashley. I didn't manage to get a single pic of Janelle so I borrowed this pic from one of the other girls: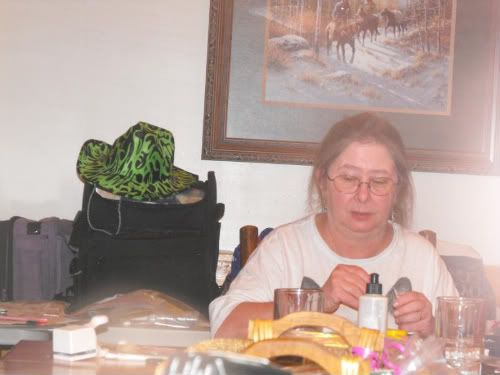 And of course Ashley: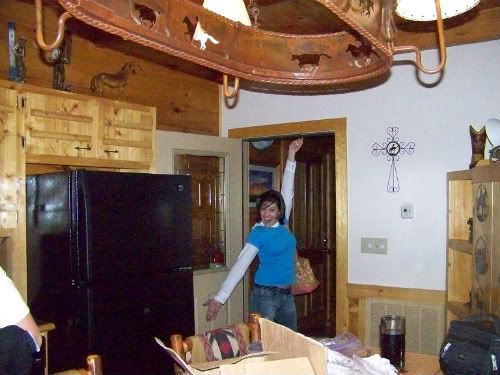 On Friday Carol arrived and our group was now complete!!! Ten ladies ready to have a fabulous weekend developing and strengthening friendships that will last a lifetime!!!
And here is the gorgeous Carol (she is Aymee's Mom):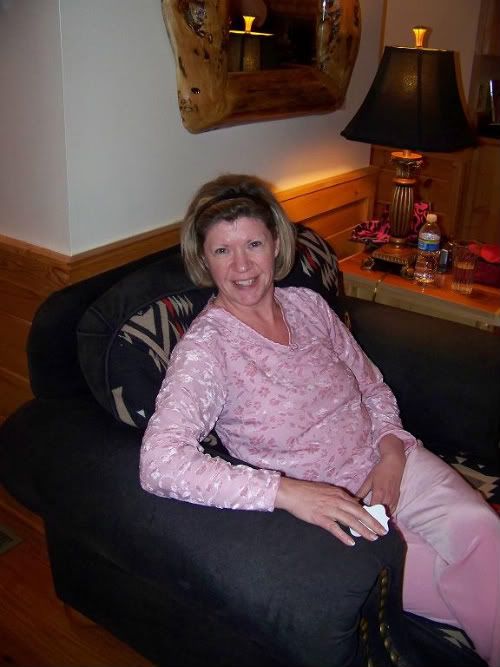 There were so many gifts about too. Cristal put together a kit for everyone, I gave out image holders full of stamped images, Cee had totes made for us that were embroidered with Just Scrappin', Aymee and Carol put together little goodie bags full of embellies, Melissa brought us each a set of Cosmo Cricket papers, just so much that I know I probably left someone out and I am sorry if I did!!! The biggest surprise was from Rebecca at Fiskars though!!! She sent over an entire set of Cloud 9 products from papers to paperclips to stickers and paper ribbons - so much stuff. She also included in our package some awesome cowboy hats and toy gun sets for our "shoot out" at the High Noon Lodge!!!
Here is me with my cowboy hat and hat pins she sent us:
A lot went on while we were at the cabin - tons of fun and shopping. We hit the local scrapbook clearance store and boy, was it worth it! I got packages of some older Sass paper for $5 that had over 50 pieces of paper, die cuts and letters. I know Cait loves those papers so I couldn't resist getting them to split up with her (I love me some Sass too). Lots of transparencies really cheap, some thickers for less than $2 a pack, cute Karen Foster buttons I hadn't seen before, tags, etc. I got a lot of cute stuff for really good prices. I was also introduced to Yellow Box shoes by Carol and Aymee. Wow, is all I can say!!! These shoes, or flip flops, are the most comfortable shoes I've ever worn!! I swear, with my bad back it is hard to find shoes that at the end of the day I don't feel extra fatigue in my back but these shoes do just that!!! I never thought I would pay $20 for a pair of flip flops but I will buy more of these!!! I will have to get a pic of them on my feet when I get my toenails repainted!!!
I'll wrap up the novel now as I am sure you are tired of reading - I warned you in the beginning though, this is what happens when I go two weeks or longer without posting!!!
I'll leave you with some pics:
The High Noon Girls - Me, Karen D (Kray) and Aymee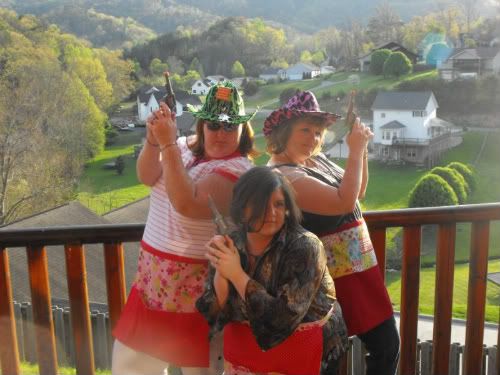 The jacuzzi tub in mine and Cee's room - check out that shapely and sexy leg there.......ROFL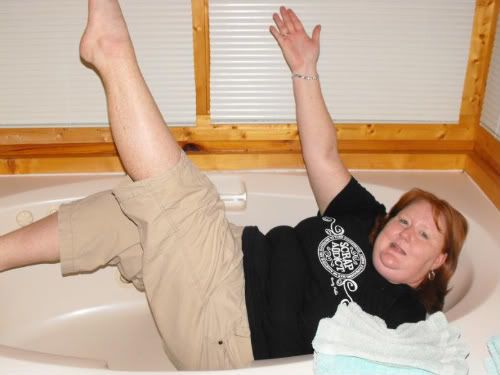 Our very own High Noon Lady, Melissa (Zigs):
The hot tub girls Ashley, Aymee, Cristal and me: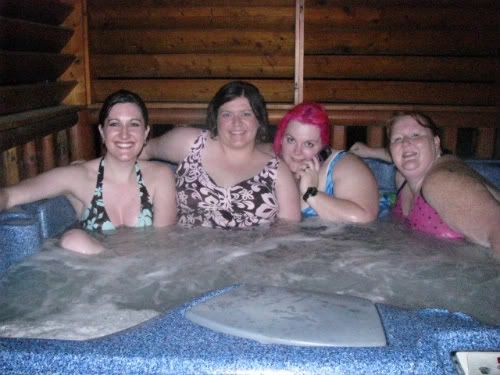 Me and Aymee with our matching Aprons: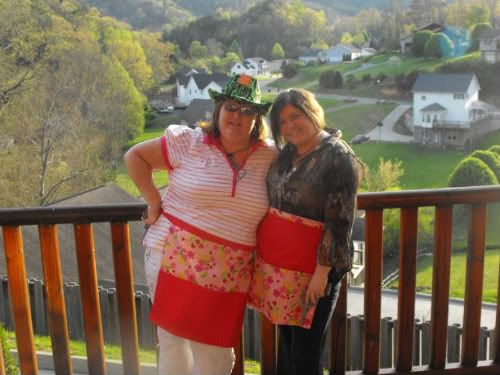 Cee, me and Karen D:
All the girls:
My life has been forever changed by meeting these beautiful women. I value each one of them for their uniqueness and individuality. I can honestly say that this group of ten ladies (yep, including me) are some of the most amazing women when it comes to the sincerity and love we have developed for each other. I know that I will walk with a different purpose in life thanks to them all!!!
Now, to finish catching up on school work, my scrappy boards and the house!!!
Thanks for stopping by, I hope you enjoy yourself and my pictures. Happy Scrappin'!!!!