So, do you play pranks today? Are you the "fool" or "fooler"? I remember when I was younger I had a blast trying to prank people but as I got older I grew out of it - guess I'm a fuddy duddy now you could say. I am sure my son will give it his best shot today at pranking us - not like it will be anything new from our day to day norm around here..........LOL. The boy always has a joke to share or try to pull - he def keeps our lives interesting and me on the ball most days!! Whatever you do, be safe and keep it all in good fun!!!
On to scrappy stuff then..................today is the reveal for my DT work at
Am I A Scrap Addict - Sketches.
I have to admit, this sketch really threw me. It isn't a hard sketch - which could be one of the reasons it threw me - but the circles on the sketch had me on a one way track of thinking and I couldn't get past it. It probably doesn't help that I waited til last week to do my card during the time frame of having my migraine either. I don't know what it was about the circles on this sketch but I had the hardest time convincing myself they didn't HAVE to be circles - I have never had a problem working with a sketch so you can see why I beat myself up over it! Anywho, here's the sketch by De and my card. I think it turned out rather well considering the darn circles had me going in..............oh yeah, I'm gonna be corny...............CIRCLES!!! Bahahahahahahaha
De's Sketch:
And my interpretation of the sketch: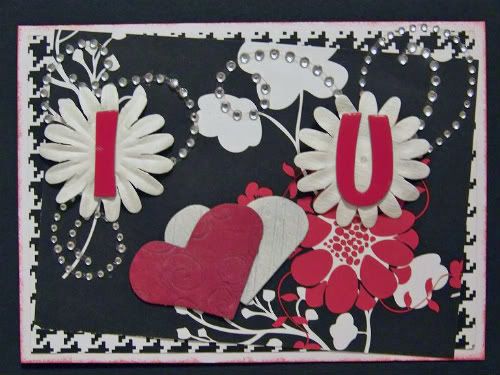 Remember if you are ever looking for sketches to work with you can use them from
Am I A Scrap Addict - Sketches
and if you link your creations back to De's blog she will enter your name into the hat for a scrappy prize at the end of each quarter. April 1st starts the new quarter so you have from now til the end of June to use a sketch posted between those dates in order for a chance to win a scrappy prize!
I have class tonite so I need to read my chapter and work on discussion questions today but I hope to have a little time for a couple challenges I want to get done!!!
Thanks for stoppin' by and happy scrappin'!!!!