...........just a couple today.
I took a little break to enjoy life. To clear out some drama clutter in my brain (although there are some out there that believe it was all about them but sadly, no, you don't clutter my brain with drama) that has been going on for quite a while. I just needed some down time to relax, see some old friends - boy did that work out, I've enjoyed being almost non stop catching up with people - reconnect with me and focus on enjoying the good things in life instead of all the BS that tends to weigh us all down.
With all that said, I'm ready to get creative again!!!
I've been doing some photography, focusing more on quality of original photos than recreating what has already been done. I've spent some great quality time with my BFF from high school and her family. I've spent lots of time missing my hubby who is still in NM waiting on his transfer - which should be soon (I know we've been saying that but he took a detail that is very beneficial for his career even though it put a damper on the move right away) - but I have gotten to go out to Amarillo and spend time with him over the weekends which has helped tremendously (it didn't hurt that his government discount gets us a sweet room for next to nothing in an upscale hotel). I've also spent some good quality time with my Dad and my daughter. We put up a pool, created a temporary patio area while we wait to build out by the pool (most likely next summer because Dad is saying he thinks he wants to move the pool to a different spot), have water logged ourselves and gotten some much needed sun.
The first weekend of June was spent at the GASC in Arlington (Great American Scrapbooking Convention) and lots of money spent on nifty new things (hubby said we needed a 2nd mortgage....LOL). Had a great birthday right after - the card my Dad got me was awesome (he got 2, a funny one and a serious one) - and closed the week out with an amazing pool party with friends and BBQ'ng bratwurst and hot dogs and having an amazing homemade triple berry parfait that my daughter whipped up (she even made the parfait filling from scratch using heavy cream, was delish and gone in that one sitting with everyone).
Now that I've refocused it is nice to feel the creativity flowing again. Here are three cards made in the last few days and I'm sure there will be more to come in the next week or so, if I can keep away from the pool long enough to post them!!!
Turtally Awesome: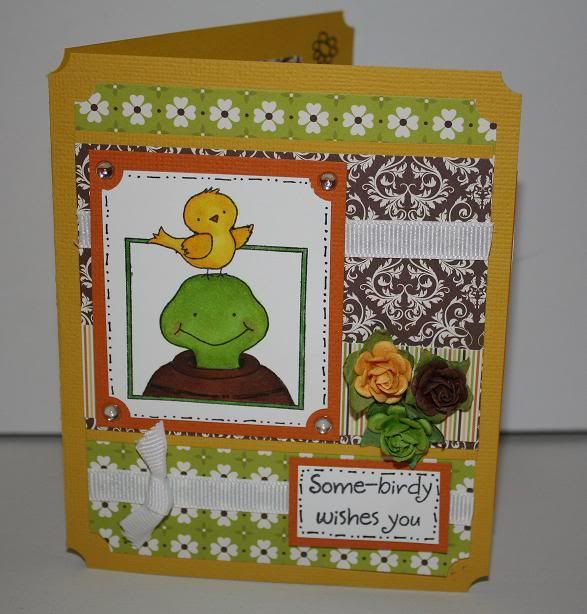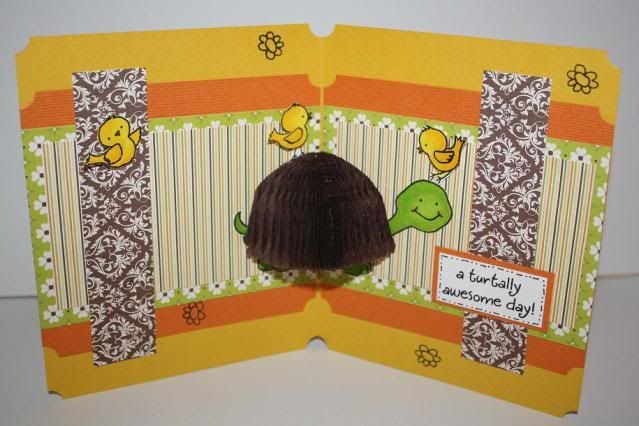 Friends Bring a Camera: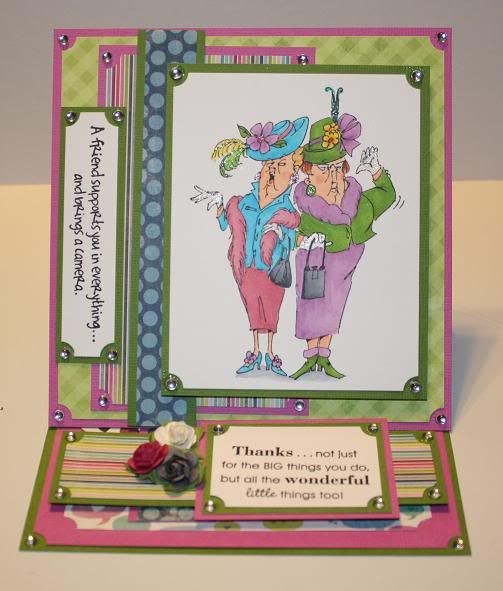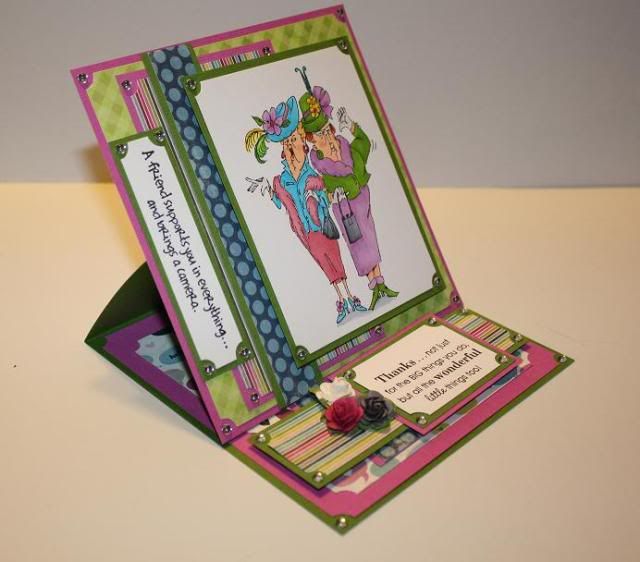 Friends Bring a Camera is for the following challenge(s):
Scrap Creations
- Anything Goes
29th Birthday: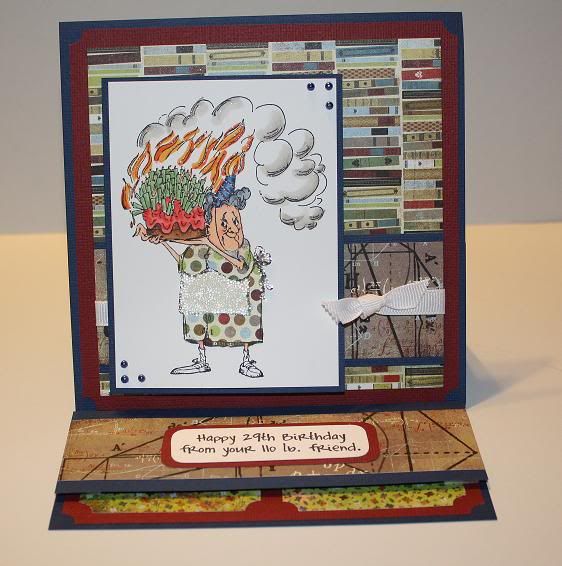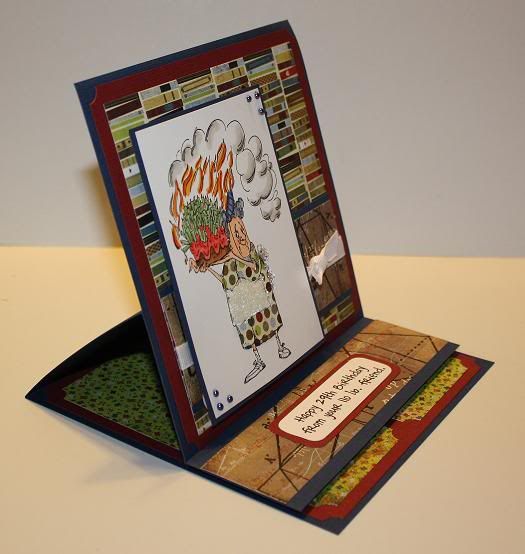 close up of her apron using beads for depth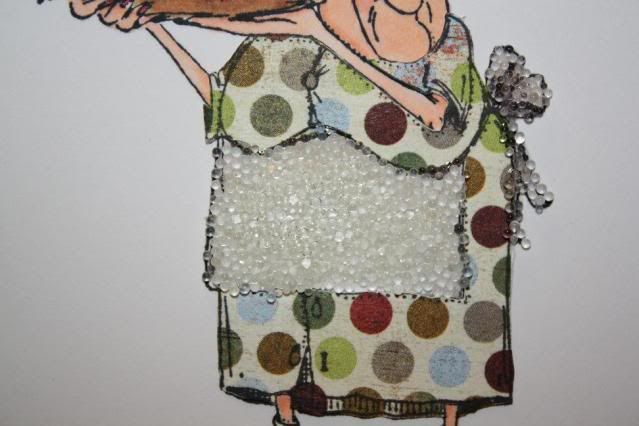 and the inside of the card (used a sketch for this part)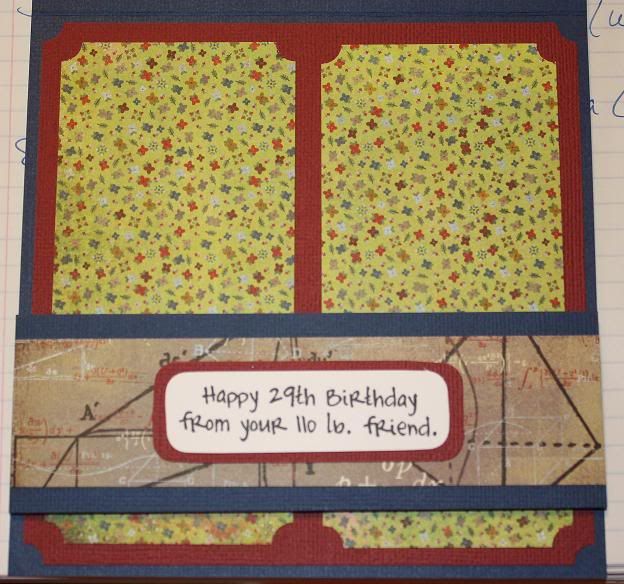 So, 29th Birthday is being used for three challenges:
Card Patterns
- Sketch (inside of card based on sketch).
Sweet Stampin'
- Food, Glorious Food (see birthday cake :p )
Charisma Cardz
- How Old
OK, that's it for now. Off to see what kind of trouble I can stir up - I'm sure it won't be hard, it seems to happen upon me at the most random of times (especially when I'm trying to be good). Thanks for stoppin' by and happy scrappin'!!!